MarketPlace Logan Announces Ongoing Safety Protocols and Debuts Innovative Offerings for the Concessions Program
AtYourGate
September 14, 2020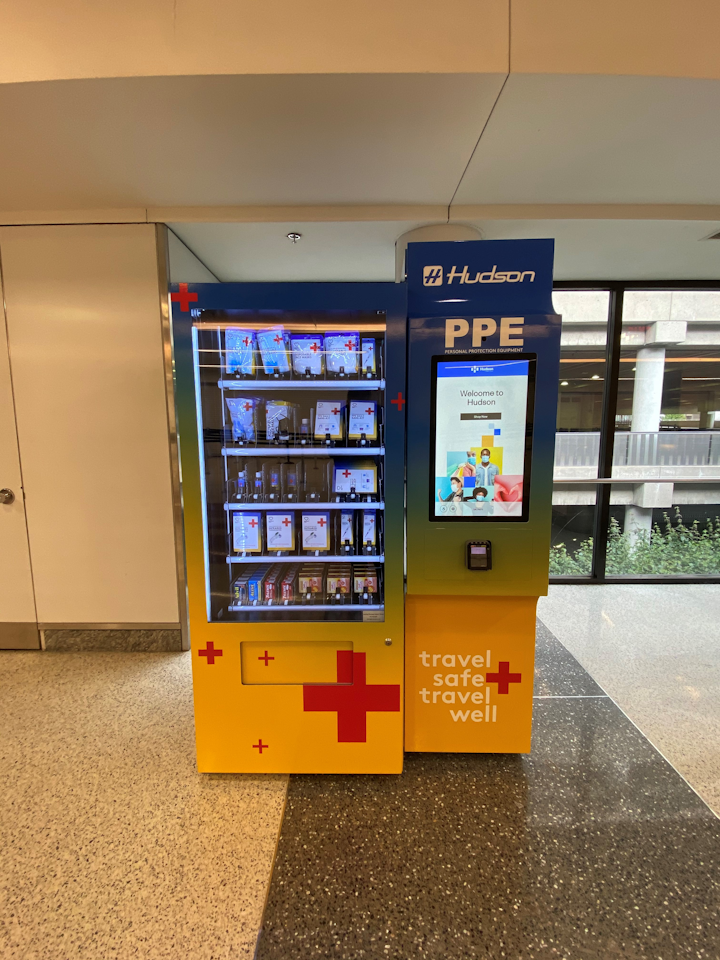 MarketPlace LoganView Image Gallery
MarketPlace Logan announced the latest safety measures, contactless options and innovative new amenities taking flight at Boston Logan International Airport.
Some of the safety measures that have been put into place across the concessions program include:
Floor markers indicating 6 feet of space
Face covering requirements
Contactless payment options at all shopping and dining locations
QR Codes at dine-in restaurants for menu viewing
Self-Order Kiosks at select eateries
Pre-Order on eatery app and Contactless Pick Up at select eateries (i.e. Dunkin)
Pre-Order Duty Free items online
Increased cleaning of high-frequency touchpoints
Plexi shields at registers
In addition, the concessions program has launched new technology and amenities that have become critical throughout Boston Logan terminals such as in-airport food and delivery leader AtYourGate, airport e-commerce platform Grab and PPE Vending Machines by Hudson. Travelers can use the AtYourGate contactless delivery service to receive a meal within 30 minutes or less from airport eateries such as: B. GOOD, Not Your Average Joe's, Lucca, WPizza, Burger King and more. Coming this fall, AtYourGate and Grab will debut the next generation of airport e-commerce ordering at Boston Logan allowing travelers to order through a variety of digital channels across terminals enabling a more efficient and stress-free experience. Hudson PPE vending machines featuring individual and bulk packaged masks, sanitary wipes, hand sanitizer, latex gloves, multi-use thermometers and portable and rechargeable UV-C sanitizers for mobile devices and personal items are now available pre-security within Hudson stores pre-security in Terminals A and B.
"We have made every effort to adjust and improve the Boston Logan Concessions Program to keep employees and passengers safe and healthy. In collaboration with our partners at Massport we have not only made necessary adjustments but also introduced new pilot programs and technology to elevate the options available and further facilitate social distancing for our travelers. There is a variety of grab-and-go options throughout the airport, ordering to go through AtYourGate as well as sit down dining options allowing travelers to have a meal safely and feel comfortable doing so while passing through Boston Logan," said Paul McGinn, president of MarketPlace Development.
Boston Logan International Airport has also already initiated the following safety measures:
Face covering requirements for all employees and travelers
Following public health guidelines, the airport has increased cleaning protocols throughout the airport and each terminal
Restrooms are cleaned and touch points are disinfected throughout the day, and deep cleanings of the facilities and heavily trafficked areas are cleaned nightly
Enhanced measures are being implemented in security checkpoint areas and inspection stations are disinfected throughout the day and night
Additional touchless hand sanitizer dispensers have been installed throughout the airport
Airlines have incorporated more touchless options for passengers, including touchless check-in, boarding and baggage check
The TSA security checkpoint process is now touchless
Blocked kiosks and gate seats to allow more space for social distancing and clearly marking reserved seating for families
Floor markings indicating 6-feet of space around active baggage carousels at all terminals
Signage throughout the airport to remind employees and travelers to maintain proper social distancing
Clear plastic shields installed at heavily traveled locations (TSA checkpoints, ticketing areas, boarding gates and U.S. Customs and Border Protection booths)
Implemented a tiered communications approach in partnership with airlines to inform travelers about the new Massachusetts Travel Order through social media, announcements and signage (the signage also includes a QR Code for easy access to the online Travel Form for passengers with a smart phone)
This update coincides with restaurant re-openings including iconic favorites such as: B.GOOD in Terminals A and B, Kelly's Roast Beef, Lucca and Not Your Average Joe's in Terminal B, and Wahlburgers in Terminal C.